Thailand Newsletter #10 - April 13, 2001
Songkran
Today is Songkran, the traditional Buddhist New Year, the biggest holiday in Thailand. Families get together often coming from far away to celebrate for four days.
At 6 a.m. our family is waking up. The younger children, Chompoo and Nam Wan (sweet water) come downstairs with their water cannons ready to go outside and squirt each other with water – the most favorite pastime this weekend for young and old. They peek into our mosquito net to see if we are awake yet. Outside we hear chanting from the nearby temple. We can no longer sleep. We roll up our mattresses and straw mats into the corner of the living room, gather the mosquito net and spread it over the mattresses.
It is hot and very humid already, around 90 degrees. We take a quick cold "shower" in the hawng nam by dumping water on ourselves several times with a small plastic bowl. A routine we perform several times a day to stay cool.
Jing, our host sister, brings us the breakfast she just cooked under her house next door: spicy fried rice with eggs, garlic, lots of onions and tomatoes. We each get a small plastic bag with lukewarm soymilk and a small mildly sweet kanom similar to a square fried donut.
At about 9 a.m. Aon, the 17year old teenager, carrying a set of stacked pots with cooked food, picks us up to go to the wat, the Buddhist temple, to make merit, to feed to monks and pray. Hundreds of people from the village are already there seated on straw mats spread all over the huge temple hall. Fifteen monks in their saffron robes sit apposite the entrance on a raised platform. To their right large and small Buddha statues are displayed where celebrants deliver candle sticks, incense and lotus flowers.
Most of the monks are older. I recognize one of the younger ones. He is the one from Bangkok who returned to his village last week to be ordained. There are also two younger boys at the far end who probably became monks for a few weeks during the rainy season to fulfill an obligation to their families, a common practice in Thailand.
In front of the monks are hundreds of bowls filled with food more than they can ever eat. Families continue adding more as they arrive.
The chanting starts up again between the lay leader and one of the monks, probably the abbot. After a while the leader starts a dance slowly moving his hands in rhythm to his song. After a while a woman joins him.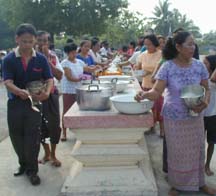 "Grandma", mother of our host, gestures to follow her to make merit delivering rice to scores of bowls on a long table outside the hall. People crush together, each one touching the next one on an arm or waist because touching the one who donates rice will allow all involved to "make merit".
Aon carries our bowl. The grandma holds her waist. Carol holds the grandma's arm and Norbert is right behind her. Someone we don't know holds on to Norbert's shirt. For a moment our " merit chain" is broken as others push between us but grandma quickly tells them we are together and we are rejoined to start the New Year with more credits than deficits.
One of the older women sitting in front of us on the floor has clearly European/Western features and unusually pale skin. Karen finally understands that she wants a photo made of herself and Karen together. Light skin is considered beautiful here in Thailand reflected in sacred art as well as in TV shows and commercials. It is also the reason that many Thai women and men cover themselves with ski masks and hats all day – even in 100-degree temperatures. Dark skin is called black, a Thai word which also means weird or strange.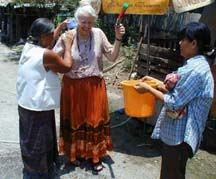 We leave the temple after a while, return to our house. Around noon we take off again – armed with umbrellas to protect us from the burning sun. My wallet is secure from water in my pocket in a plastic bag. We walk past the temple and are stopped by a roadblock, a rope across the road and a group of women and children armed with water canons and buckets filled with water. We pay our dues, five Bhat each as a donation to the temple and get soaked and smeared with white paste anyhow: "Happy New Year" – at least that is what we think they were saying to us. We really didn't mind. On this 100-degree scorcher any soaking feels refreshing. At the outdoor restaurant across from our village school we order "Put puck raad kau", stir fried veggies on rice, our standard meal here in Thailand - also one of the few meals I know the words for. I had brought a bottle of Chang Beer at one of the stands along the road. We are regulars at this restaurant and the woman doesn't mind at all.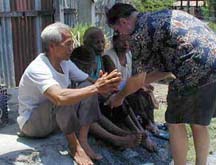 Back at the house Jing asks us to to give blessings to the other grand parents and older uncle. We pour water over their hands and mumble a blessing. Since we forgot to ask our Ajan how to say it in Thai, we are saying "Happy New Year" in English. They don't seem to care. They sing a chant during the "ceremony".
During lunch at Jing's house we are watching the news in Thai. They are showing pictures of hundreds of locals and foreigners in the streets of Bangkok and Chang Mai having sanook (fun) getting soaked and smeared with white paste.
Sunday, April 15 - A Rotten Board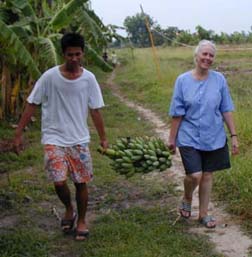 This is our last day in our village. Aon invites us to visit their farm, which is only of few kilometers away. There are rice patties and a stand of banana trees. They cut down several of the huge branches with bundles of bananas. Carol helps carry them back to the truck. We watch the uncle unload a load of pigs and then we follow them to look at the chicken house. To reach it we have to walk on three boards to cross a creek. Carol is ahead of me. I am right behind her. As she steps on the boards, the left one breaks into two and she ends up in the water. She twists her right knee and her side is severely bruised. She is in a lot of pain. We help her into the truck, take her back to the house and call the Peace Corps Medical Emergency number. They instruct us to take her to the hospital immediately. A Peace Corps picks us up a little later. X-rays are taken. Fortunately, no bones are broken.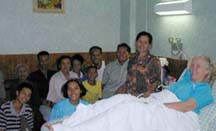 At about 8 p.m. that night there is a knock at the door of Carol's hospital room. Dib, Jing's youngest sister, and her husband Bud, came to visit and say good-bye. Within an hour or so the rest of the family or most of it, show up, 15 in all: Grandma, Jing, Aon, Witt, Champoo, Nahm Wan, Bunsie, Dabb, Pott and Joy, also the youngest brother from Bangkok, Nahm Wan's dad, with a bottle of Chang beer for me. Grandma sits on the bed and holds Carol's hand. "You come back and visit us," Aon translates. We give small painted china bowls thanking the families. It is difficult to say good-bye. During the three months in Na Lau we have come close to all of them, they have become family.
Monday, April 16 - Back in the Hospital
At 5:30 a rented vans picks us up and takes us to a hospital to Bangkok. We arrive at about 8 a.m. to see an orthopedic surgeon who speaks pretty good English. "There probably is a partial tear in the ligament. We are going to put braces on your knee. It will take about three weeks to heal. You must stay in the hospital for about two or three days."
After she is settled in her room at this luxury hospital – it reminds us of one of the luxury hotels in the U.S. with Starbucks Coffee and Au Petit Pain – the Ajan who came along takes me to the S.D. hotel to check in. After exploring the area and the nearby Western style-shopping center, I board the air-conditioned bus #11 to see Carol. The ticket taker tells me that this was not the right bus to the hospital. There was another bus #11 I needed to take. I get off at the next stop. The next bus #11 doesn't stop for whatever reason. Fifteen minutes later – I am sweating like a pig – another #11 finally stops. I get on and ask the ticket taker if this was the bus to the hospital. She cannot read the note from the hospital and asks one of the passengers to help out " Yes, this is the right bus" she says in Thai as far as I can make out. "Finally" I think to myself. After a while I find an empty seat. A young Thai sits next to me. We were told by our instructors to always ask at least three times to make sure we are on the right bus. I show the note to him. He points to his ears. He is deaf-mute. Then he points forward. "OK", I think to myself, "this must be the right bus. He is probably going to tell me when to get off." After about twenty minutes he gestures to me to get off at the next stop. I walk to the door. To make sure I ask some more passengers. Nobody seems to know the hospital but the ticket taker tells me not to get off yet. I keep looking at landmarks but nothing seems familiar. I cannot read any of the Thai writing. Finally, after half an hour, she tells me to get off. I find the hospital and spend an hour or so with Carol. She is very frustrated with her situation but happy to see me. "Take a taxi back to the hotel", she suggests.
"Rong Ram S.D." I tell the taxi driver. "OK", he answers and takes off. After a while he asks me where the hotel was. He doesn't speak English and I can hardly communicate with him. I told him I didn't know. He stops at a few places, another hotel, a policeman, a gas station, he is totally lost. I try to call the Ajan from a gas station but the phone doesn't work. I finally tell him to pull in at the hotel across from the gas station. They suggest I pay him off and let him go. They look up the hotel in a phone book, call to verify that it was the right one and write down directions for me in Thai. A cab driver tells me he wants 200 Bhat because it was very far and the traffic was heavy. I tell him that I wasn't interested. The hotel concierge tells me to make sure to take a metered taxi. I finally find one who seems to know my hotel. He is from Cambodia; I have a nice conversation with him with my broken Thai about his family and his job and finally get to the hotel. I paid 10 Bhat for the bus earlier. The 10-mile trip back cost me 80 Bhat. I should have listened to our Ajan and taken the bus back.
When I get to the hospital Carol is not in her room. The nurse tells me that she was getting physical therapy and learning how to use her crutches. I write a short note for her and take the elevator to the mezzanine. At the Au Petit Pain restaurant I order a latté and a chocolate muffin. Back at her room Carol is waiting for me. She is doing fine – as much as can be expected.
Wednesday, April 18, 2001 - Waiting
The pain in her leg is a lot less today. She comes with me all the way to the entrance downstairs where I get a taxi again, this time with printed instructions on how to get to my hotel. Carol will be released tomorrow afternoon so she can participate in the swearing-in ceremony on Friday. Nurse Malee will check with the doctor tomorrow to find out what his recommendations are. We may have to stay in Bangkok for a few more days so Carol can get more physical therapy.
Love
Norbert