November 19, 2000 - Thailand: Sawatdee
Just a couple of days ago we finally received our invitation to go to Thailand on January 29, 2001 - 18 months after we submitted our application. We were gone almost three months on an incredibly wonderful road trip through the western US We saw a lot of great and exciting places, the Rocky Mountains, Colorado, Yellowstone, Vancouver and the entire west coast all the way down to San Diego and Tijuana, Mexico. Earlier last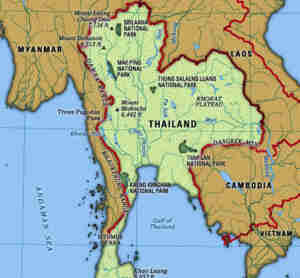 week, on our very last day, we stayed overnight at a motel just north of the Texas border. Before we took off the next morning for Grove, Oklahoma, our final destination, we called the Peace Corps expecting to find out that their second appeal to the host country office had been unsuccessful. It would not have been a surprise because we had just about given up on it. Instead, our placement officer, our fourth one, told us that she had good news for us, that an invitation to go to Thailand was in the mail. The last few hours of our drive home are just a blur. We were stunned, excited, scared all at once. "This couldn't be true, they must have made a mistake!", we reminded each other. "I thought you didn't want to do this anymore", I asked Carol. "No, no, no", she answered,"that was just a way of protecting myself. I definitely want to go. But do you want to go?" - "What do you think? Of course, I do. We've been waiting for this for a year and a half. and I am not about to throw this away!!!"
The thick envelope marked "Important documents" came after four long days of agony: Both of us will be assigned to the same project titled "Integrated Education and Community Outreach".. According to the job description, the overall project purpose is "to assist the Royal Thai Government in the improvement of primary school teacher's teaching capabilities by strengthening the skills of of teachers to teach integrated subjects using student-centered and participatory learning methodologies, and, by developing community support networks and activities to help improve the life quality of students and their families."
The initial three months training (PST) will be in a village in the Supan Buri province , about 100 km or an hour and a half north of Bangkok. If we make it through this very demanding period - we have to pass the language final test at a "Novice high level" - we will be sworn in as volunteers and assigned to a district level office where we will work closely with district education supervisors and interested primary school principals and teachers.
Carol feels very comfortable with this assignment since she was a middle-school teacher for many years. I, however, feel quite bit uneasy about it since I never really taught in a school. The teaching methods course I had in graduate school 30 years ago is long forgotten. I just hope that the training that will be provided to us will be sufficient.
And there is the Thai language. This must be one of the most difficult languages in the world - especially for Westerners. The writing is equally difficult to learn.

This Thai word is pronounced sa-wat-dee and means hello.
OK, I must quit. There is much to be done. There are only 9 weeks left to departure. We will try to find a good language course so we won't go in cold, make contact with other prospective volunteers, start looking at clothes to wear and things to take. Also , before we leave we promised to lay tiles in my mother-in-laws new sun room and complete all the other tasks she has waiting for us. Her list has a tendency to grow longer and longer when we are not looking.
- Norbert
December 15, 2000 - Slow going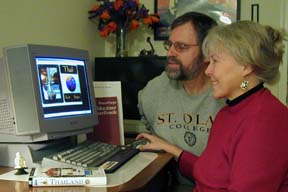 Here we are studying Thai on our desktop computer. After some searching we found an excellent interactive program we ordered directly from Bangkok. Quite pricey at $75 but well worth it. The only downfall is that early chapters seem loaded with words for various ranks for military rank, terms that will likely be of little use to us. This program was originally developed for the Australian military. It's slow going. After two weeks we are only up to chapter 3. The other day Carol saw a ranking somewhere of difficulty level. It is at level four and comes right after Chinese and Arabic which are rated as level five. Learning German or Spanish is considered level one. .
December 18, 2000 - Only six more Weeks
Today the country packet finally came. We dropped everything we were doing and started reading. Finally a list of what to bring and what not to bring. We measured our suitcase, went over what we already had and started looking on-line for more suitable sandals and clothes.
Another surprise was the requirement that I have to cut off my beard after the country desk told us it was optional. I wished I would have known that before we had our passport and visa pictures taken. Now I am afraid that I might have some explaining to do when we go through the passport control in Bangkok.
Tomorrow we will go to Tulsa - a two hour drive - to find a trunk, look for shoes, clothes and a second backpack.
- Norbert
January 9, 2001 - Down to the Wire
We received final medical clearance after we submitted updated labs and dental reports.This was necessary in our case because the old ones were over twelve months old. Our financial affairs are in order. We have pulled together almost everything we have to take and will complete our first trial packing this week. Even with most of the work now done, the excitement and anticipation keeps us questioning: Isn't there something we have forgotten, are we taking enough of this or that? Since we took a break during the holiday for visiting family, the pressure to get back to our language study intensifies. Because of this we decided to bring to a close this chapter and to begin the next one - the "Training" page - from Thailand.
We don't know yet how and when we will be able to get back on the Internet. If there is electricity in the village where our training will take place, we are planning to mail diskettes to our oldest son Stephan. He will post it to this site and our e-group.