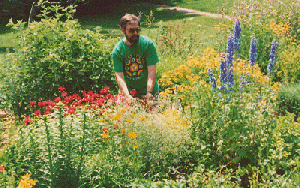 I liked to garden as long as the Minnesota mosquitos didn't get too bad. It's past tense since we sold our house in summer of 1999 to St. Olaf College and moved to an apartment for a year as an intermediate step in our journey. See Peace Corps for more on this. I was growing a variety of medicinal herbs and made some of my own medicines, like echinacea extract. I was and still am interested in holistic medicine and biology.
Other interest and hobbies include:

For the last several years I have been raising a Kombucha culture on top of our refriderator. Kombucha is an old folk remedy from the Far East made from tea, bacteria and yeast. It provides a number of health benefits. I drink at least one small glass every morning.

enjoy listening to folk and classical music and I also like to read, mostly non-fiction. Here are some of my recent and not so recent favorites: "Molecules of Emotion" by Candace Pert, "Tao of Physics" and "The Web of Life" by Fritjof Capra, "Runes of the North" by Sigurd Olson., also various books by C. G. Jung and Hermann Hesse.

My latest hobby was building musical instruments. I completed a hog-nosed psaltery which I still have to learn how to play.

And last not least, in summer we usually go camping with our small pop-up, preferably to our favorite place, Pukaskwa National Park at Lake Superior in Canada. In 1997, we went canoeing for the first time in the boundary waters, just for one day. That was a lot of fun and we are planning to do it again some day.