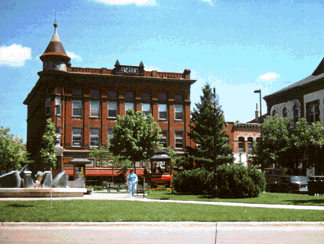 Northfield, Minnesota
(from St. Olaf Viewbook)
Northfield is home to 14,000 friendly souls, two colleges, and a number of thriving industries. The town slogan is "Cows, Colleges, and Contentment" and it's pretty true. (The biggest spot of trouble occurred in 1876 when Jesse James and his gang tried-- unsuccessfully--to rob the local bank.) Thanks to the comforting aromas emanating from the Malt-O-Meal cereal manufacturing plant, the town even smells wholesome.
Downtown Northfield is accessible either on foot or with a little help from the college shuttle van. It makes runs every 30 minutes or so between Saint Olaf and cross-town Carleton College, with a stop midway at the College Health Service.
You'll find most of what you need downtown, from mugs and memo pads to gourmet coffees and organic foods, copies of the Sunday New York Times, and a variety of clothing stores, eating establishments, and banks. There's also a museum where you can buy postcards with pictures of dead bank robbers (see above), an arts guild featuring the work of fine artists from the upper Midwest (including some very talented local people), and a town square complete with a war memorial, a bubbling fountain, and a popcorn wagon.
The town's setting makes outdoor activities popular--and convenient. It's a runner's and cyclist's paradise, with charming neighborhoods, rolling hills, and beautiful tree-lined streets and roads. Alpine skiers don't have far to go to indulge in their favorite pastime; Nordic skiers just have to step out the back door.
---